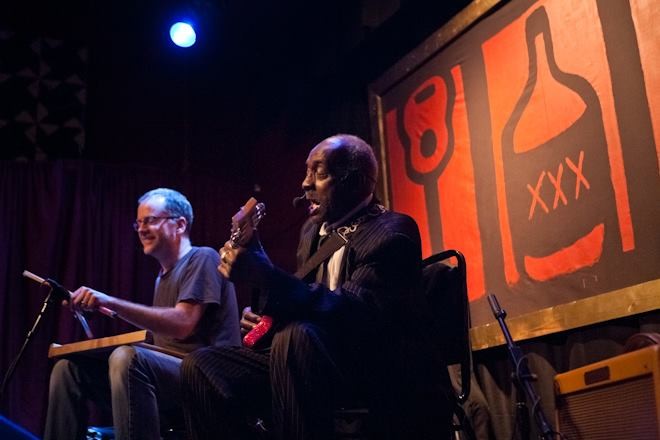 by Adam Wiltgen
photo by Shannon Porter
Originally published 01/24/14 at: thenoisyneighbor.com
Leo "Bud" Welch may have been donning his best Sunday suit at Ed's (no name) Bar on January 19th, but the 81 year old musician, with decades of experience playing in gospel groups around his home in rural Mississippi, was clearly here in Winona to sing the blues.
Equipped with a microphone headset and perched on a chair next to savvy percussionist Mikkel Beckman, the gravely-voiced veteran belted out a superb set of joyous blues tunes on his sparkling red guitar with the confidence and stage presence to draw in music lovers of all ages and tastes.
Particular highlights included impassioned renditions of blues standards "Got My Mojo Working", "I Believe I'll Dust My Broom" and "Sweet Home Chicago." Welch also offered up some colorful banter between songs and often enthusiastically recited the titles, or first lines, of the songs he was about to play. Naturally, and in trademark blues fashion, one such announcement ended up consisting of the song's entire lyrics: "Baby, put your red dress on / Cuz we're goin' out tonight!"
Playing at least his 10th show in Minnesota that week (and at least his 3rd performance that day), Welch showed no signs of fatigue on stage. He even earned some of his loudest responses from the crowd when, on several occasions, he rose to his feet for the final few choruses of a song.
After a brief encore, Welch's set concluded appropriately after his manager hopped on stage and expertly relayed a dirty joke / tall tale about he and the bluesman going rabbit hunting — much to the amusement of the diverse and numerous patrons in attendance.